---
Kris Sportswear 4 Men
---
Welcome to the official web page of Kris Sportswear 4 men. We give you all the information and updates of all the latest clothing and shoes that are out. We DO NOT sale merchandise, we just post up weekly updates about whats coming out.
---
Kanye West Designs Own Shoe?!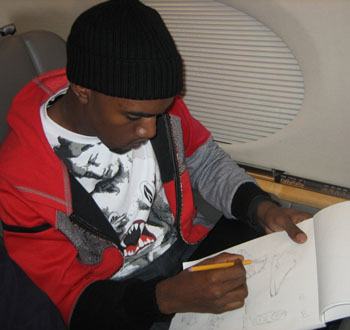 Two Fridays ago Kanye West and GLC appeared on BET's 106 and Park to discuss music, upcoming projects, and the Nike Air Yeezy. While we reported on Friday that he proclaimed that Kanye had the hood in mind when designing the $215 Nike Air Yeezys and the $800+ Louis Vuitton sneakers, he did drop a little hint of an upcoming sneaker line that wasn't previously discussed.

Speaking about his interview in Complex Magazine about the Nike Air Yeezy, Kanye stated the following:

"I wish Nike would give me a deal, I wish Louis would give me a deal. Since that hasn't happened yet, I am in the process of making my own company from scratch to put out to my people." At this point we will have to wait to see what will come of this, but this sounds like an interesting move for Kanye.
---
---
Rocawear R+ Evolution...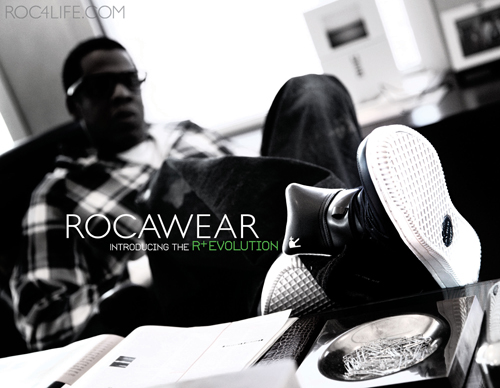 Kanye told Jay he did a song with Coldplay, next thing you know Jay got a song with Coldplay. Looks like "Big Brother" is at it again, this time following little brother's Yeezy's with his own new Rocawear R+ Evolution sneaker. Style cues from a number of popular silhouettes, the R+ Evolution is all the pieces of the latest trends. You can see the influence of shoes like the RT1, Puma First Round, and more. The extra high ankle, and even higher tongue seems almost standard issue this year in the footwear industry. Does Jay-Z still have enough clout to push this new Rocawear footwear? Only time will tell. Available June 1st.
---
---
Jim Jones is back but his Nostic clothing line is not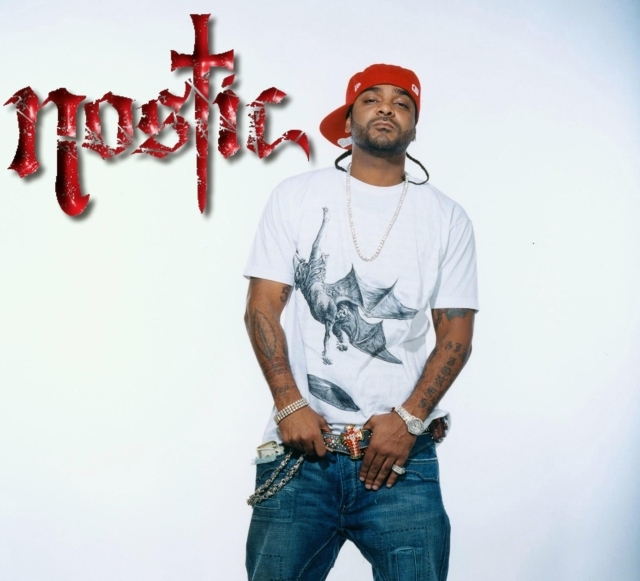 Jim Jones x Nostic Apparel. Remember a couple years back when Jim Jones launched his clothing line called Nostic? The entire collection was based on the then popular design of skulls, crossbones and the whole goth rocker/rap look. But now, Jim Jones is back in the lime light with Dame Dash by his side. He has a new track hitting the net with Snoop, he's on the covers of magazines again..but his clothing line is noticeably absent.
WoooHa did a little digging and even though Mr. Jones was still pushing Nostic during the beginning of 2008, a majority of the stores that initially sold the clothing line during the initial launch no longer carry the collection. In fact, the entire official Nostic clothing line website has been taken off the net. The site is actually owned by Mama Jones (Jim's mother) who was helping Jim launch the clothing line. Word is that just like Jim Jones' career, he is getting ready for a relaunch of Nostic as well.
---
---
Rich Yung Society
Rich Yung Society Clothing was officially launched in 2006 by Brooklyn rapper John "Fabolous" Jackson.
Known for setting some of Hip Hop cultures biggest trends in the years between 2000 to 2005, Fabolous spoke of wanting to create his own brand minimally. Rich Yung Society clothing was the realization of those words, making the words 'words do come true' a timeless classic.
Misspelled by some as Rich Young, RichYung, and YungRich, the official brand name is Rich Yung Society clothing. Fabolous gave the clothing brand the name Rich Yung in thought of a lifestyle and not just a Hip Hop clothing brand title. Rich Yung Society clothing is supposed to embrace a culture of people that are ever-expanding in experience and willing to try things usually stereotyped to a the rich, young, and luxurious trend setters of the world.
Artists from all walks of Hollywood and international fame have been seen in the Rich Yung Society Clothing line. Some of the most popular photos on-line for Rich Yung Society clothing show Hip Hop related celebrities such as Atlanta Rappers TI and Young Jocc wearing the line.
---
---
Pharrell BBC & Bathing Ape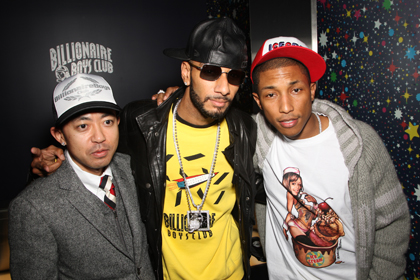 A Bathing Ape clothing is well recognized around the world due to its flashy design and original art, and expensive material. It often uses characters from popular media such as SpongeBob, Batman, Superman, Super Mario Brothers, Marvel characters and Hello Kitty as well as original art such as Bape Monkeys, Baby Milo Monkey, Fast Food, The star Bapesta and Camo. It also cooperates with many other famous brands, such as Pepsi and M*A*C, and artists such as KAWS and Gary Panter. These patterns are used throughout the Bathing Ape range, on accessories, hoodies, jackets, t-shirts and Bapesta shoes.
---
---
---
Merchandise on this site can be found at the following stores below:(Everything on this website can be found at the following retail stores below).
Individualized Learning Program

Other Retail Stores